Your Community Is Our Community
Energy Transfer is committed to being a good neighbor, business partner, and a valued member of the communities in which our employees live and work. Since June of 2017 after the Dakota Access Pipeline was put into service, we have been actively helping organizations big and small.
To date, Energy Transfer and the Dakota Access Pipeline have contributed more than $11.94 million in donations across the four states through which the pipeline traverses. These donations are separate from the $15 million that Energy Transfer gave to the state of North Dakota to help offset the costs the state incurred for the response to the protests.
HARRISBURG PARK PROJECT
On March 8, 2021, the Harrisburg Community Foundation announced a donation of $175,000 from Dakota Access Pipeline, LLC to support the Harrisburg Park Project. Donation plans were modified in 2022 to focus on renovations and expansion of the existing main field, including a new concessions building, restrooms, picnic shelters and play areas. Its new scoreboard recognizes the area as Dakota Access Field. Part of the donation is also going toward the construction of new softball fields, expected to open in 2023.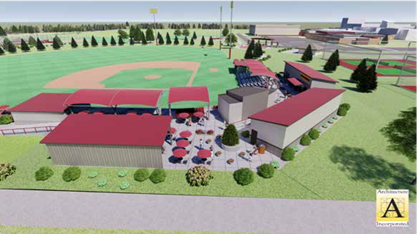 2X4's FOR HOPE
Dakota Access Pipeline presented a $160,000 donation on February 6, 2020, to Quincy, Illinois-based nonprofit 2x4's For Hope. The funding helped build four more tiny homes for veterans locally, plus completed the funding for a partially built tiny home in Brown County. Each tiny home cost about $34,000, with all labor donated. The 2x4's for Hope organization also helps the veterans who are selected for a tiny home with a mentoring program.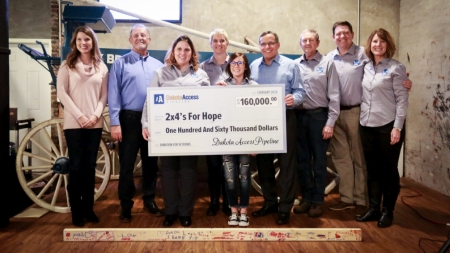 CITY OF MANDAN
On June 11, 2019, Energy Transfer announced a $3 million donation to the City of Mandan in North Dakota to help fund improvements at the Morton Mandan Public Library and Main Street parks that function as community gathering spaces. The donation assisted with a library refresh including a new atrium, office space and bookmobile garage, as well as making much-needed updates to the historic building. It also included enhancements to the adjacent Dykshoorn and Heritage Parks such as a new playground area with artificial turf, restrooms, shade areas, and lighting elements.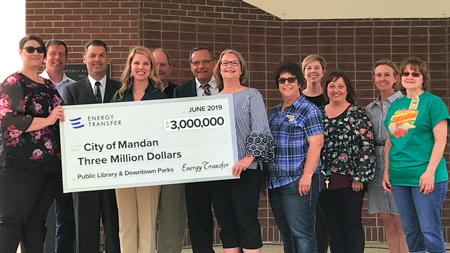 EMERGENCY RESPONSE AGENCIES
Upon completion of Dakota Access Pipeline construction, we donated $20,000 to each county's emergency responder department that we crossed. That totaled $1 million across 50 counties in four states. In the fall of 2019, we donated an additional $1 million to help first responders in the communities along the pipeline's route.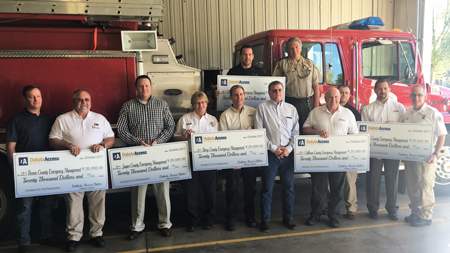 FFA FOUNDATION
In 2017, Dakota Access Pipeline donated a total of $250,000 to the FFA Foundation across the four-state route. The funds were used to benefit local students through conference sponsorships and curriculum support. Each state's organization was offered $5,000 per county the pipeline traverses. In 2019, we again sponsored FFA events in North Dakota, South Dakota, Iowa and Illinois with donations of $10,000 and more.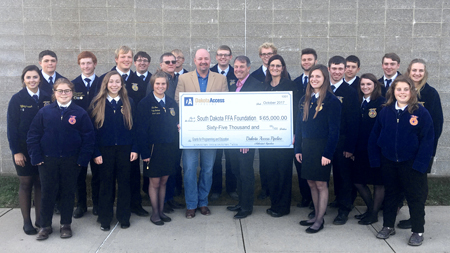 4H FOUNDATION
Dakota Access Pipeline also gave to the 4H Foundation along its route, offering each state's extension office $5,000 per county traversed. In 2017, this totaled $185,000 for North Dakota, Iowa and Illinois. In 2019, we supported 4H-ers again by sponsoring events and educational programming.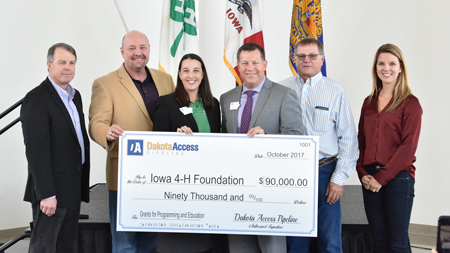 NORTH DAKOTA HIGH SCHOOL RODEO
Energy Transfer continues to support the North Dakota High School Rodeo Association. Since 2017, the sponsorship continues to cover the costs of the national team jackets and national team shirts for participants, totaling $30,000.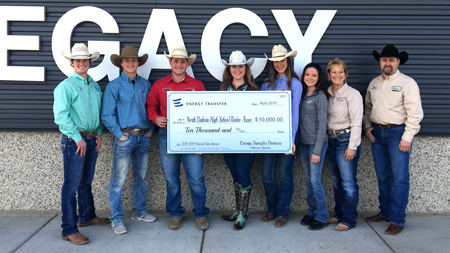 MANDAN VETERANS MEMORIAL BALLPARK
Our donation of $10,000 helped fund renovations to the ballpark, which celebrated its makeover debut on June 4, 2019. Renovations included artificial turf, renovated dugouts, locker rooms, umpire room and grandstands. We are proud to be a business partner in North Dakota and a part of the Mandan community.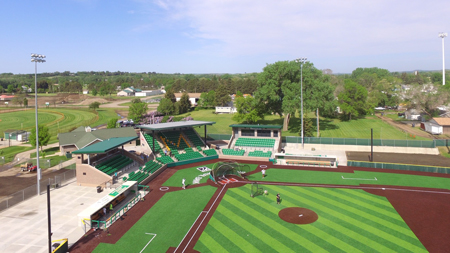 UNIVERSITY OF MARY
In 2018, Energy Transfer and the Energy Transfer/Sunoco Foundation donated $5 million to the University of Mary in North Dakota for the university's new state-of-the-art engineering facility and for the creation of a Workforce Development Initiative.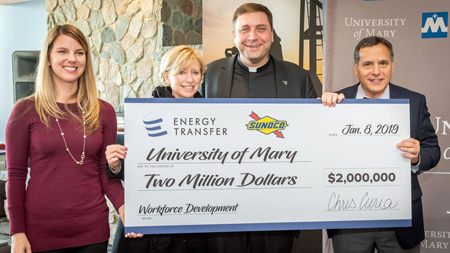 Additional Stewardship
Energy Transfer is committed to being a good neighbor, business partner, and a valued member of the communities in which we work and live.
$600,000 Iowa State University to fund agriculture/construction research
$400,000 Iowa Department of Natural Resources (IDNR) Fish & Game Trust Fund
$20,000 ND State Historical Society Foundation
$22,500 ND Peace Officers Association
$10,000 Dakota Territory Sheriff's Association
$10,000 Linton Volunteer Fire Department
$10,000 North Dakota Petroleum Foundation's Conservation Initiatives
$7,500 Rock Valley, Iowa Police Dept. K-9 Unit
$5,000 Missouri Valley Fire Chiefs Conference
$5,000 South Dakota State Fair Foundation
$5,000 ND Highway Patrol State Conference Sponsorship
$5,000 ND Simmental Association
$5,000 ND Stockmen's Association
$5,000 Home On The Range Foundation
$5,000 Bismarck Law Enforcement Chaplaincy
$5,000 Carthage Fire Department in Illinois
$3,000 Emmons County Salvation Army 2020 Red Kettle Campaign
$2,200 Ottumwa High School Sports Cards Sponsorship
$600 Campbell County Rodeo in South Dakota
Follow Us
Safety Fact Sheet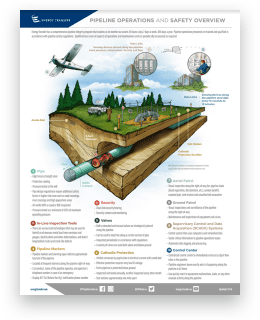 MEET ENERGY TRANSFER
America uses 800 million gallons of petroleum every day. At Energy Transfer, we're proud of our role in developing the latest in pipeline technologies, to bring energy to American homes and businesses. We safely operate more than 70,000 miles of pipeline, with a company priority to build with American materials, American workers, and American ingenuity.